This California farmer is thanking PureCrop1 for taking his Timpson table grape vineyard from being nearly-scrapped to premium-quality in only one year.
Study: Table Grapes
Test Date: Fall 2020
Location: California
This study examined the performance of PureCrop1 on table grapes. PureCrop1 saved this California farmer's Timpson grape vineyard by improving the overall quality & size of the fruit, increasing yield, and the amount sold at a premium.
Treatment Rates & Methods
Once with three different Dilution rates. Materials were mixed to dilution in 1.0-liter bottles. Either 1.66, 3.33, or 6.66 ml of PureCrop1 were poured into bottles partially filled with water and filled to volume to obtain either 600:1, 300:1, and 150:1 dilutions.
Note: PureCrop1 can be mixed with sulfur. Reduce rates of PureCrop1 and Water/Acre towards the end of the season for no cuticle damage.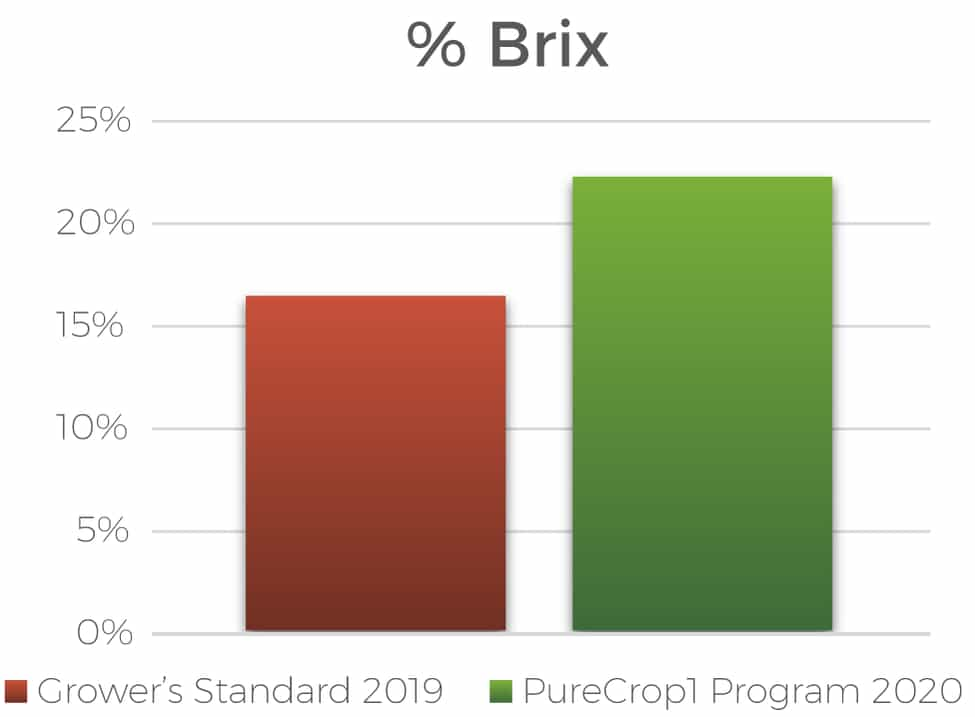 Study Conclusions
This farmer also significantly increased his yield by 57.2%. By PureCrop1 improving the quality and size of the fruit, the number of boxes sold at a premium increased by 686%. ALL of the 2020 season yield sold to USDA #1 & high-end retail markets compared to only 20% in 2019.
With a consistent PureCrop1 IPM program, this farmer increased Brix levels by 35.6%. PureCrop1 replaced seven conventional products and provided the sole prevention and suppression of pests, mold, mildew, and plant disease while increasing plant health.